22 things to eat and do around Taiwan's Presidential Office [email protected] Scene
即刻加入ReadyGo官方Line@,獲得第一手旅遊資訊與優惠折扣

Taiwan's Presidential Office Building is opening its doors to the world like never before from this October, inviting 20 groups of overseas guests to spend the night at the historic location. Not sure what there is to do in the surrounding area? Here's Taiwan Scene's guide of what to see, do and eat around the iconic building.
What to do
228 Peace Memorial Park
Opened in 1900 during the Japanese colonial period, 228 Peace Memorial Park boasts greenery, exercise areas and a bandstand. It is also home to the 228 Memorial Museum that recognises the February 28, 1947 incident that led to the massacre of thousands of civilians. 
Academia Historia
Reopening in Taiwan in 1957 having originally been founded in Nanjing in 1947, Academia Historia is composed of four departments: compilation and research, preservation and general service, acquisition, and secretariat. It is the recognized authority for Taiwan's presidential and vice-presidential records and artifacts.
CKS Memorial Hall and National Theater and Concert Hall
Chiang Kai-shek Memorial Hall is a famous monument and tourist attraction built in memory of Generalissimo Chiang Kai-shek, former President of the Republic of China. The site, known as Liberty Square, is also home to Taiwan's National Theater and Concert Hall (NTCH). 
image source: GACC
image source: GACC
Natural History Museum and Taipei Botanical Garden
Taiwan's Natural History Museum is packed with relics and artifacts from Taiwan, Mainland China and beyond, with items on display dating back to the Neolithic period and the ancient Chinese dynasties. The botanical garden is 15 hectares of greenery and is home to more than 1,500 species of plants. 
Xinfu Market (U-mkt)
Established in 1935, Xinfu Market was completely restored in 2013. It is currently part of the JUT Foundation's Project UrbanCore and since 2017 has been the base for the study of traditional market culture and day-to-day life in Taipei. 
圖/IG@s_c_o_
Bopiliao Historic Block
Dating back to the early Qing Dynasty, Bopiliao Historic Block's architecture reflects that of a completely different culture. While also displaying how Taipei has changed over time, nowadays, the buildings still hold a practical purpose by housing art exhibitions.
image source: Taiwan Scene
Longshan Temple
One of the most famous temples in Taiwan. Built primarily for the worship of deities from Chinese folk religion, the temple was damaged in the Taihoku Air Raid in World War II and was rebuilt shortly after the war's conclusion.
image source: Taiwan Scene
Qingshui Temple
Recognized as a prime example of mid-Qing Dynasty temple architecture, this temple was built in dedication to Qingshui Zushi, a Northern Song Dynasty Buddhist monk.
Nishi Honganji Square
A small park built on the site of a burned down Japanese temple, Nishi Honganji Square is where you'll find Eighty-Eightea tea house as well as Taipei's City Archives. 
Red House Theater
This historic Ximending theater is synonymous with Taipei's LGBTQ community and is a popular venue for concerts, live performances, is home to several retail spaces and more.
image source: GACC
Ximending pedestrian zone
A bustling neighborhood and shopping district, Ximending is home to many pubs, clubs and shops, as well as being a hive for Japanese culture in Taipei. It is an incredibly popular tourist area.
image source: Taiwan Scene
Where to eat
Le Palais
Located at the Palais de Chine hotel, Three Michelin-starred Le Palais serves a variety of Chinese cuisines using the freshest ingredients, including Cantonese dim sum and Chinese banquet foods.
image source: GACC
The Guest House
Once a members-only dining club, The Guest House at Sheraton Grand Hotel, boasts predominantly Huai Yang and Sichuan cuisine with a local twist.
sesame oil chicken over rice (image source: hungryintaipei)
Dan San Yuan
Family-run business Dan San Yuan, not far from 228 Peace Memorial Park, offers classic Cantonese fare with Taiwanese influence.
Hang Zhou Xiao Long Bao
Hang Zhou's xiaolongbao are known for their lightness, with the owners of the store having been taught the secret to making good soup dumplings by a Shanghainese chef.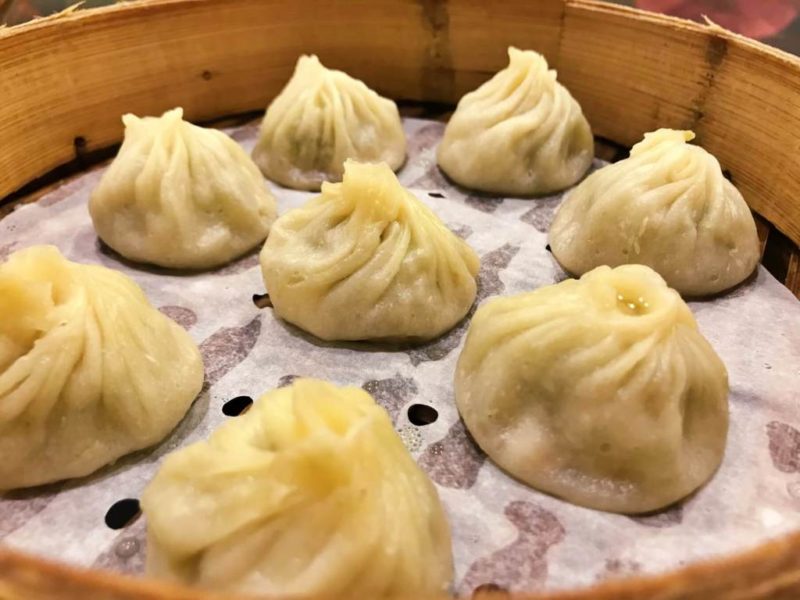 image source: Taiwan Scene
image source: Taiwan Scene
Lao Shan Dong Homemade Noodles
Using Australian beef, Lao Shan Dong has been churning out quality bowls of beef noodle soup since 1949. They are known for their flavorful broth.
Niu Tien Beef Noodles
You really are spoiled for choice with beef noodles in Taipei. Braising their beef for up to seven hours, try their Manchurian-Chinese beef noodle soup to sample different cuts of beef at once.
image source: Taiwan Scene


image source: Taiwan Scene
image source: Taiwan Scene
Jian Hong Beef Noodles
Yet more Michelin-recognized beef noodles, Jian Hong is open 24/7 and offers refillable soup noodles for those of you who love to slurp.
image source: Taiwan Scene
Liu Shandong Beef Noodles
In case you hadn't noticed, it's pretty easy to find quality beef noodles near the Presidential Office Building. Liu Shandong offers two types of beef as well as chopstick or thin noodles.
image source: GACC
Fu Hang Soy Milk
A popular breakfast stall where you'll often find long queues of hungry locals, Fu Hang Soy Milk sells traditional Taiwanese breakfast dishes, as well as, of course, soy milk.
image source: GACC
Shuang Yue Food
Traditional home-style Taiwanese cooking. Shang Yue Food is known for its wonderful chicken soup, while a mention must also go to their milkfish and glutinous oil rice.
圖/IG@irene_taipei_food
Huaxi Street Night Market
Also known as Snake Alley, Huaxi was the first tourist night market in Taiwan. Home to many old shops, boutiques, massage spots and more, the market's most famous offering is the snake soup. Yes, you did read that right…
(圖片來源:官方FB)
Enter the competition
You still have until August 31 to send your submission video for your chance to spend the night at the Presidential Office Building. Applications can be made by visiting the official Taiwan Presidential Office website by clicking here. Good luck!
---
    Original content can be found at the website of Taiwan Scene  
Read more:                                                                                                                                                  
▸Driving in Taiwan: What Every Visitor Needs to Know    
▸10 Ways to Evade and Escape Taiwan's Summer Heat